Mary C. Wright
(Santa Maria de los Conejos)
Biographical Material

---
Note: We don't have a photo of Mary, so we scanned this rubber stamp of a nun.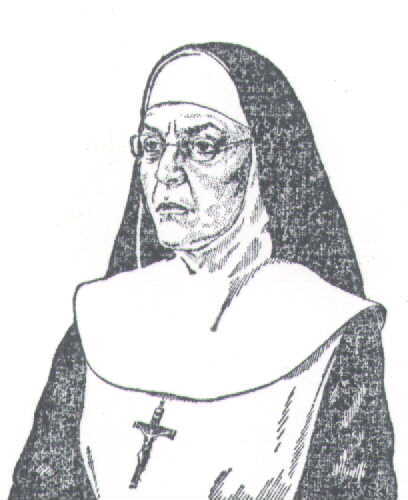 Mary C. Wright holds degrees in music theory from Cleveland Institute of Music (B.M.) and music composition from the California Institute of the Arts (M.F.A.) and Princeton University (Ph.D.)
The greater part of Mary Wright's compositional output is instrumental chamber music. By not aligning herself with any particular aesthetic "camp", she has maintained a unique and original voice. Nevertheless, her frequent, subtle references to vernacular music and the use of theatrical elements have enabled her music to appeal to a diverse audience. Her current interests and explorations include sound installations and multi-media projects.
Ms. Wright's music has been performed by the Kronos Quartet, the California Ear Unit, Bang On A Can All-Stars, New York New Music Ensemble, and the San Francisco Contemporary Music Players. She has received commissions from the MIT Symphony Orchestra, American Composers Forum, Fromm Foundation at Harvard University, the Meet the Composer/Readers Digest Commissioning Program in partnership with the National Endowment for the Arts and the Lila Wallace Readers Digest Fund, and ASCAP/Bang On A Can (In Memory of John Cage). She has received awards from the International League of Women Composers, ASCAP (Young Composers Award), and the first Margaret Blackburn Memorial Competition.
Web site: http://www.muzakmary.com
Mary C. Wright


Leisure Planet Music